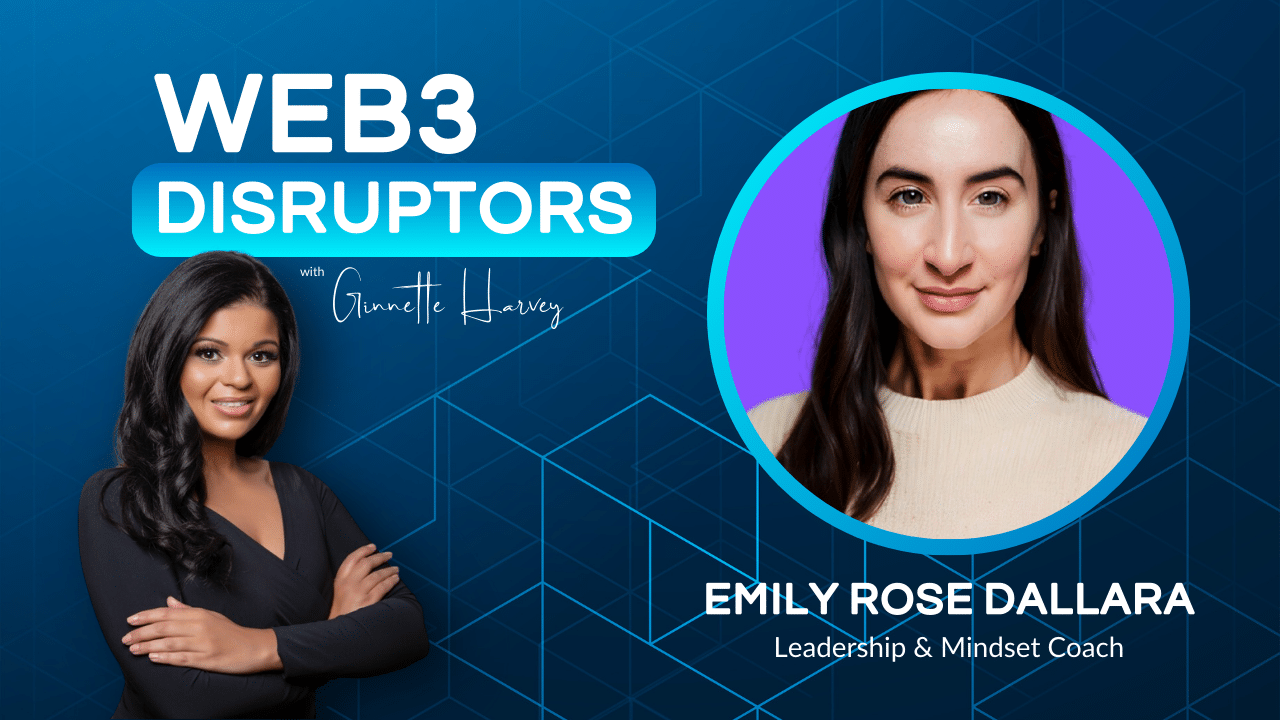 Unlocking Success in Web3: Insights from Emily Rose Dallara
what will you learn in this episode?
1. Navigating Burnout in Web3:
We examine the tell-tale signs of burnout and discuss strategies leaders can implement to not just overcome this, but to flourish.
2. The Evolution of the industry:
We explore the ways in which the sector has transformed, especially in the field of marketing, and speculate on what might be on the horizon.
3. Empowering Women in Web3:
We delve into the unique challenges that women face in Web3 and discuss how companies can cultivate a culture that values diversity of thought, enabling everyone to thrive. 
—
about the guest:
Leaders, founders and solopreneurs in Web 3 come to Emily feeling tired, overwhelmed, and honestly…a bit stuck. For them it's a constant battle to know where to focus, how to be recognized and to feel 'on top' of their shit, all whilst trying to manage life stuff too.
Emily Rose Dallara is a Leadership and Mindset Coach, who also runs The Web 3 and Thrive Podcast. 
Prior to this she was a Marketing Leader and CMO for some of the leading Web3 companies in the space. 
—
show notes:
In this episode, we delve deep into the world of Web3 with Emily Rose Dallara. We discuss the realities of burnout, the evolution of the sector, and the challenges faced by women in this sphere. Our special guest, Emily, a seasoned marketing leader, brings invaluable insights from her time at the helm of leading marketing for Web3 companies.
Emily reveals the telltale signs of burnout and shares some of the factors that contributed to her own experience with this. She goes on to share her own experience of recovery and the crucial role of a coach in her journey. She also highlights the importance of spirituality in maintaining balance and aligning one's career path with their purpose.
We also explore how the Web3 sector has transformed, with a particular focus on marketing. Discussing the unique hurdles women encounter in Web3, Emily provides perspective on the ways companies can foster an environment that encourages diversity and enables everyone to prosper.
This episode is a powerful examination of the evolution of Web3, touching on topics vital for anyone navigating this rapidly evolving field!
—
links and resources:
Web 3 and Thrive: https://open.spotify.com/show/04x5ajceaB7zwdBnTDHGD0?si=eaf81fddc7d34aec&nd=1 – A podcast designed to help women develop the confidence, knowledge and clarity they need, to thrive in web 3.
Payant: Getting ghosted by web 3 and crypto companies who owe you money? Sign up for Payant and never chase an invoice again – https://www.payant.io/ 
Ginnette Harvey LinkedIn: https://www.linkedin.com/in/ginnetteharvey/
Web3 and Blockchain recruitment: https://www.bloc-haus.com/ 
Are you being paid fairly? Take the survey: https://www.bloc-haus.com/salary-survey/
—
time stamps:
01:51 – Dogs and mom friends.
05:07 – Cause-driven passion in crypto.
08:23 – Losing customers and making changes.
11:12 – Burnout and career transitions.
16:25 – Working sustainably and self-awareness.
19:09 – Filling the brain with information.
23:20 – Gender equity in tech.
28:15 – Values in organizational diversity.
31:20 – Age diversity.
35:14 – Web3 and Thrive
—
preview the podcast on youtube
what will you learn in this episode? 1. The concept of Web3 and its potential. You will learn about the...