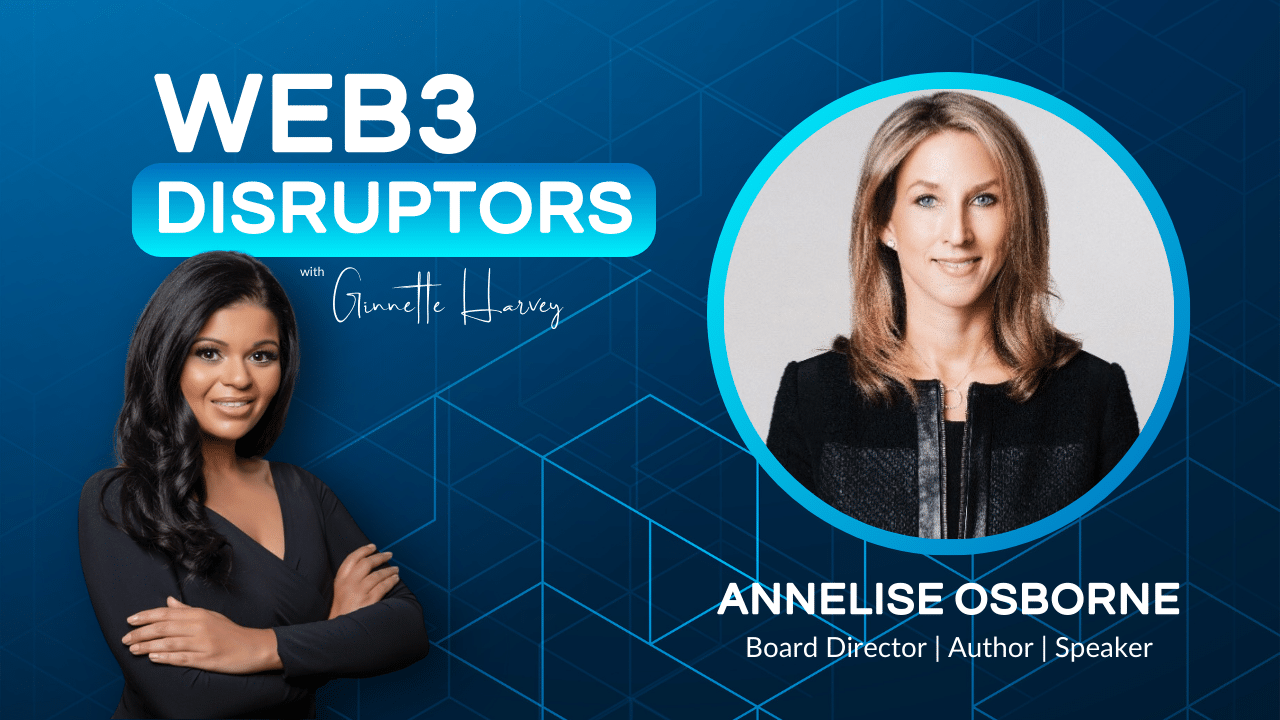 Annelise Osborne: Insights on Digital Assets, Generations and Women in Leadership
what will you learn in this episode?
1. Institutions and Digital Assets:
We start by discussing the hurdles and potential pathways for institutions adopting digital assets. Annelise Osborne, an expert in the field, shares her thoughts on technology adoption, the role of regulation, and the need for appropriate education.
2. Generational Perspectives on Blockchain:
Our conversation moves on to the different views on technology and investment across generations. Annelise explains how blockchain can address these differences and the importance for organizations to adapt to these changing attitudes.
3. Becoming a Published Author:
Annelise describes her journey from having an idea for her book 'From Hoodies to Suits' to seeing it published. She shares her experiences and provides practical advice for listeners who may be thinking about writing their own books.
4. Women and Public Board Roles:
We finish by discussing the challenges women often face in securing their first public board role. Annelise gives tips on how to secure a position and how to quickly build confidence once in the role. This is essential listening for women looking to join a board.
Join us for a discussion with Annelise Osborne about the world of Web3. Whether you're interested in digital assets, thinking about writing a book, or looking to secure a board role, this episode is full of practical advice and insight.
—
about the guest:
Annelise is a digital asset innovator, Board Member, Author and speaker. With over 25 years of experience in finance, credit, real estate, risk, structuring, governance, and digital asset, she previously worked in the digital asset space as COO of Propellr and spent 12 years at Moody's Investor Service running commercial real estate teams within the structured finance group. Annelise holds an MBA from Columbia Business School and a Bachelor of Arts in Economics from The College of William and Mary.
—
show notes:
In this episode of Web3 Disruptors, Ginnette Harvey introduces Annelise Osborne, an experienced digital asset innovator, board member, speaker, and author.
Annalise shares her journey into the world of Web3, blockchain, and digital assets, starting from her time at Moody's and her role in commercial real estate.
She discusses the growth of CNBS and its impact on reducing financing costs through risk spreading. Listeners gain insights into Annalise's expertise and her upcoming book, "From Hoodies to Suits: Innovating Digital Assets in Traditional Finance."
Tune in to learn more about Annalise's unique perspective on driving blockchain innovation through strategic partnerships and advisory services.
—
links and resources:
Annelise Osborne's LinkedIn: ⁠https://www.linkedin.com/in/annelise-osborne-7611176/
Ginnette Harvey LinkedIn: ⁠https://www.linkedin.com/in/ginnetteharvey/
Web3 and Blockchain recruitment: ⁠https://www.bloc-haus.com/⁠ 
Are you being paid fairly? Take the survey: ⁠https://www.bloc-haus.com/salary-survey/
—
time stamps:
02:11 – Blockchain and Bitcoin exploration.
05:10 – Traditional finance meets new technology.
07:57 – Interoperability within blockchains.
11:31 – Debt contracts on chain.
15:01 – Traditional structures and technology.
17:39 – Changing mentality of millennials.
21:36 – Writing a book proposal.
24:10 – Imposter syndrome and gender stereotypes.
28:23 – Navigating a spot on a public board.
30:42 – Women and networking dynamics.
36:08 – Unique challenges women face.
38:09 – A woman's network and community.
—
preview the podcast on youtube
what will you learn in this episode? 1. The concept of Web3 and its potential. You will learn about the...