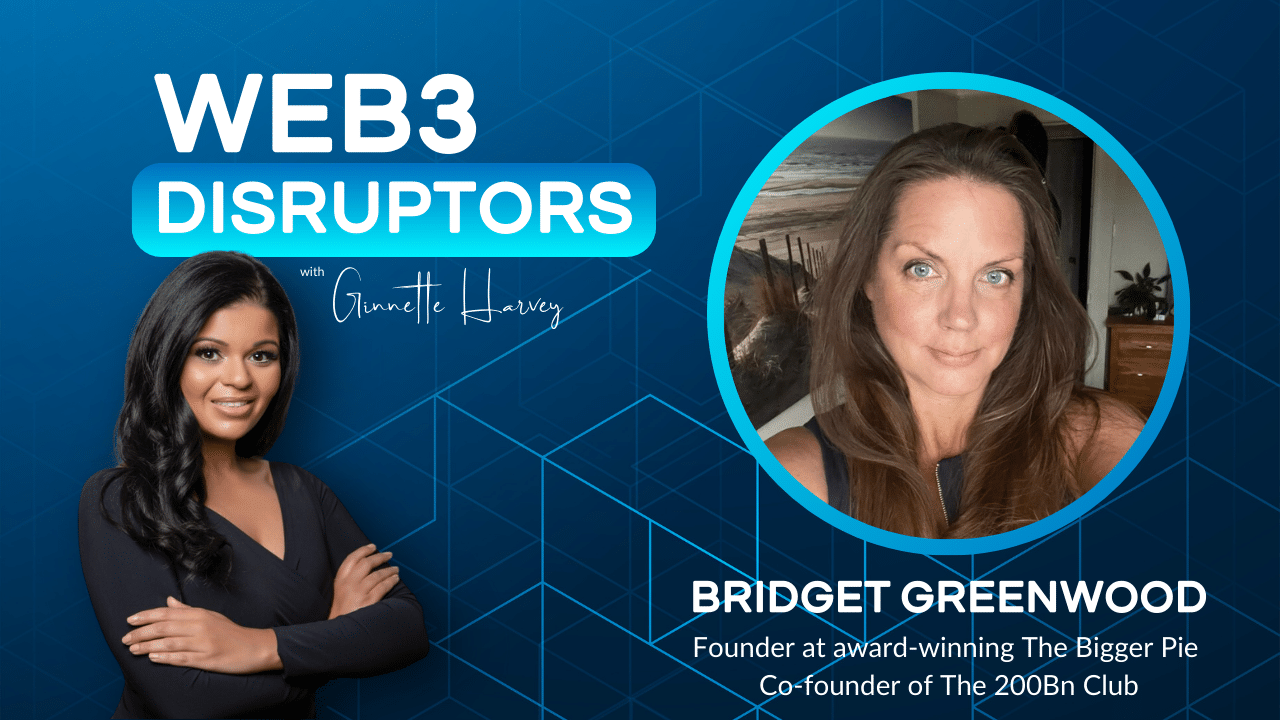 Addressing the funding gap for female founders… with Bridget Greenwood
Delighted to bring you the very first episode of Web3 Disruptors!
⁠⁠Ginnette Harvey⁠⁠ interviews ⁠⁠Bridget Greenwood⁠⁠, the founder of ⁠⁠The Bigger Pie⁠⁠ and Co-founder of ⁠⁠The 200Bn Club⁠⁠. 
—
In this episode, they discuss the importance of providing startups with the necessary resources and tools to build sustainable businesses. They emphasize the need to nurture startups and help them graduate through accelerators, access funding, and build the necessary human capital to take their businesses to the next level. This includes not only technical skills but also skills related to team growth, sales, compliance, and responsibility. Ginnette and Bridget also mention the importance of working with universities and backing academic research with best practices – and created a playbook. 
Ultimately, the goal is to see more thriving businesses that attract larger customer bases, solve innovative problems, and contribute to societal values and benefits.
The episode also discusses how recognizing and answering preventive questions in a promotive way can help bypass bias in fundraising. Preventive questions focus on risk and defending the startup, while promotive questions focus on opportunity and growth. Research shows that male founders are more likely to be asked promotive questions, while female founders are more likely to be asked preventive questions. However, those who are asked promotive questions are five times more likely to raise funds than those who are asked preventive questions. Therefore, founders who can recognize preventive questions and answer them in a promotive way can bypass bias and increase their chances of raising funds.
In the episode, they also discuss VC programs and accelerators that are working to address bias in fundraising, and that record-keeping and analytics can help ensure that both preventive and promotive questions are asked in a balanced way regardless of the gender of the team.
Bridget also discusses how investors can improve their understanding of deal flow opportunities by bringing in people with different strengths and implementing a design practice to look at data points. She emphasizes that investors may have biases and may not be able to see all potential opportunities on their own. By bringing in people with different strengths and perspectives, investors can gain a more comprehensive understanding of the market and potential investments.
Additionally, Bridget suggests implementing a design practice that looks at as many data points as possible to better inform investment decisions. This is particularly important in early-stage investing, where data points may be limited. By balancing preventive and promotive questions asked during startup pitches and keeping records and analytics, investors can show that they care about diversity and are committed to improving their investment practices.
Overall, Bridget recommends that investors should recognize their strengths and limitations and work to bring in diverse perspectives and data-driven practices to improve their understanding of deal flow opportunities.
—
key moments
02:05 – Bridget's journey: finance to Web3.
05:52 – Supporting women in blockchain.
11:18 – Addressing the funding gap for female founders.
17:43 – Language, verbiage and coaching matter.
23:12 – Why men should diversify decision-making.
28:28 – Promoting diversity in Web3.
34:15 – Collaboration is needed for social change.
—
links
⁠⁠The 200Bn Club⁠⁠ – a hands-on programme connecting female founders with the skills, mentorship, and network they need to raise a seed or Series A investment.
⁠⁠The Bigger Pie⁠⁠ – elevating the industry by enabling, advising, and supporting women to learn, teach, work and lead in the areas of blockchain and emerging tech, while navigating the very edge of innovation, change, and opportunity.
https://www.linkedin.com/in/ginnetteharvey/
https://www.linkedin.com/in/bridgetgreenwood/
—
preview the podcast on youtube
what will you learn in this episode? 1. The concept of Web3 and its potential. You will learn about the...